Archive for November, 2011
From time to time great deals cross my desk and I like to share them so everyone gets the best deals!
Especially on hotel stays!
 I have 2 great deals below.
The first is a link for finding the best discounts on hotels by far this is the best! They are running a coupon for a 100.00 rebate right now! I am taking my family to Cape Cod this summer and I have already booked my rooms at remarkable prices and I will be receiving the 100.00 Rebate! What could be better than that!
The second link is for a great internet hosting company. If you ever wanted to start your own website or blog this is your shot! They are having a great coupon deal for only 1 PENNY! I have used this company for awhile now and I love them!
Remember Never pay full price if you don't have to!
Enjoy!
Please check out the story that my local paper just ran on saturday on this website and my coupon parties!
Click here to read my article: 
This is why everyone should sign up for SheSpeak! You get to help companies launch  new  products and  review them.  It is simple and free! The company will email you when they have a potential offer. If you are interested in trying it you simply fill out a short survey and they send you this email confirmation. 
Dear nicole,
Welcome to the
Milk & Truffle GHIRARDELLI SQUARES® Program!
We're excited for you to try this
NEW
truly decadent chocolate experience. Your program kit has shipped and should arrive to you soon.
Enjoy the full SheSpeaks program experience by:
Indulging in the GHIRARDELLI SQUARES chocolates that come in your program kit and using or sharing the coupons
Blog about your experience. Share your thoughts with your audience and be sure to let us know! Email us at blogteam@shespeaks.com. Make sure to blog by February 29 to be included in our social media shout outs!
Chatting on the discussion board with other women in the Milk & Truffle GHIRARDELLI SQUARES® program
Writing a SheSpeaks product review of the Milk & Truffle GHIRARDELLI SQUARES®
Taking a short evaluation survey to tell us what you thought of the product. We'll send you an email when it is time!
We can't wait to hear how you've enjoyed the Milk & Truffle GHIRARDELLI SQUARES®!
If you've got questions, we've got answers. Email us at
info@shespeaks.com
.
We can't wait to hear what you think!
Many Thanks,
The SheSpeaks Team
I like to buy toys all year long when I find them on sale or have a great coupon.  I use them for birthday presents and shop all year for Christmas presents!  If you're like me, you'll want to print the high-value Hasbro Toy coupons before they are gone.  Print them tonight because they will not be there in the morning!  Save them for a sale or clearance markdown.  Here's a summary of what is available:
$8.00/1 – Sesame Street Let's Rock! Elmo Toy – (hasbro.com)
$3.00/1 – Transformer's Deluxe Action Figure – (hasbro.com)
$5.00/1 – Nerf Vortex Praxis Blaster – (hasbro.com)
$3.00/1 – Jenga or Cranium  Brain Breaks Game – (hasbro.com)
$5.00/1 – Electronic Taboo or Catch Phrase Game – (hasbro.com)
Thanks; The crazy coupon lady
Proctor and Gamble has their own website where you can find more coupons, have samples of products mailed to your door and much more.
Click here:  Proctor and gamble website……..ENJOY!
Another great website is SHESPEAKS. They are a great company located in New York.  All you have to do is sign up and they will email you with different products that are being launched. They want to get the word out for the companies so they send you a free product, and coupons. They like you to later review the product by conducting a quick survey. I have been a member of SheSpeaks for 2 years and I love it! They have a tab for cheap deals and offers as well.
Meet Jodi! She recently took my coupon class and this was her successful first trip couponing!!! SO EXCITED FOR HER….. She is on her way! :)
Hey Nikki…
Ok so this is how I did this.
I saw that Puffs Plus were on sale for .88 a piece at CVS this week. I also had a manufacturers coupon of $1.00 off.
I noticed in the flyer before I went that if you purchased a gallon of milk, you get $1.00 in ECB, with a limit of two.
So I went to CVS, scanned my card at the " Coupon Center " and it printed me a $1.50 off!!!!!! ( WoooooHooooo)
So I did my first transaction and bought my 2 gallons of milk ( which was also on sale :) ) and got my $2.00 in ECB.
I then did another transaction for my tissues so I could use my ECB..
.88 x 6 = 5.28
– 2.00 ( ECB)
—————————–
3.28
– 1.50 ( ECB)
————————–
1.78
-1.00 ( Manufacturers Coupon)
—————————–
.78 cents
.05 tax
——————————-
TOTAL: .83 cents!! FOR SIX BOXES OF PUFFS TISSUES :)
I am ADDICTED!!! Thanks for the great class!!! You have inspired me !
Talk to you soon !
GET ORGANIZED!
BUY A FULLY LOADED COUPON  BINDER HERE!!!
2 OPTIONS TO CHOOSE FROM
EMAIL ME AT THIS TIME IF YOU ARE INTERESTED IN PURCHASING YOUR OWN FULLY LOADED  COUPON BINDER. EMAIL me at  nikki@couponstotheextreme.com to place your order.
PAYPAL WILL BE AVAILABLE SOON.

I decided to offer binders because  many people say they "just don't have the time to put this all together."


For the people who are really interested in taking coupons to the next level here it is all done for you! 
OPTION 1:  LARGE Fully Loaded binders for purchase for 49.95
Available in pink, black and purple.



Binders come complete with……….
A three ring soft Velcro binder- excellent durable quality.

The strap binders are available in pink or black. This binder zips closed.
Comes complete with  "How to coupon guide"

Coupon Lingo Page ( abbreviations decoded)
24 clear pocket sheets for coupons

Category dividers

Tabs on each category for quick reference

A mesh zipped pocket for the coupons you will need to file
The Binder will be completely organized and ready for your coupons.
Binder  will be sent to you fed ex  and fully insured. :)
Pay Pal will be available soon. For now you can email me to place an order.
OPTION 2: Medium Size Binders for 29.95
available colors pink, yellow,red, purple, and black.


Binders come complete with……….
A storage pocket for coupons and flyers that need to be filed.

A plastic zip bag for calculator, scissors etc.
Comes complete with  "How to coupon guide"
Category dividers

Tabs on each category for quick reference

Coupon Lingo Page ( abbreviations decoded)

24 clear pocket sheets for coupons
 EMAIL me at  nikki@couponstotheextreme.com to place your order today!
GET the CVS GREEN BAG !!  :)

The CVS Green Bag Tag is another great way to earn extra money!  
You can find the Green Bag Tag selling near the cash registers or the main entrance of CVS stores.
 The tag costs $0.99. Purchase the tag, and attach it to your own reusable grocery bag (any bag is fine, no need to be a CVS brand shopping bag). Every time you shop CVS, make sure and scan the CVS Green Bag Tag. It can only be scanned once per day, but every 4th time you shop, you'll receive a $1.00 Extra Care Buck!


LITTLE SECRET AT CVS: Always print coupon from coupon center in CVS  before you start shopping.  Check isles for clearance sales.
For example:
Some of the Pantene shampoo's are on clearance for 1.67 . There is a coupon for 3.00 off 2 Pantene, which would make them almost completely free. I missed this because they were all sold out! They were 75% off. 
Although I did get Nivea for free. I found lotions on clearance for 2.47 and used a coupon for 5.oo off of 2 niveas. So free!!!
CVS always has clearance items that are not in the flyer. You have to find these yourself . I would bring your binder with you to find surprise free items.
Last Night Shopping Trip!
Boost protein shakes
Regular price 8.99
sale price 6.99
1.00 ECB
Coupon 3.00 off 1 pack of boost( in last sundays paper)
You have to do separate transactions in order to use ECB and coupon making price 2.99
Nivea Clearance item 2.47 bought 2 
-5.00 off coupon final price free!
WALMART
Curel 2.27 -2.00 coupon final price .27
Olay 5.00 – 4.00 coupon final price 1.00
Pudding 1.00- 1.00  free
Mento Gum 1.27-1.00 final price .27
Another great deal  ………….thanks to ANDREA CAMPANALE!
CVS buy 30.00 worth of Quantum dishwashing soap get 10 ECBs back!
Coupon to use 2.15 off of 1.
Shopping example:
quantum sale price 3.50
buy 9 @3.50= 31.50
but use 2.15 coupon for each one making them 1.35 each
final price = 12.15 for 9
get 10.00 ECB (will print out at the end of transaction)
 Its like paying 2.15 for 9!!!!! (buy your coupons today at my couponing clipping service )
THE COUPON CARRY OUT RIGHT HERE ON THE HOME PAGE to make this sale. ENDS SATURDAY.
If they are sold out get a raincheck but you will have to use these coupons before the end of the month before they expire
High value coupons are the best when you match them up with a great sale! The use of these coupons will result in a free item or at least 8O percent off.  Pair these coupons up with buy 1 get 1 free  and you are officially an EXTREME COUPON DIVA! :)
4.00 off 1 Olay. This coupon works at Walmart and CVS on the big Olay body wash. At CVS this week 6.88-4.00 coupon=2.88 plus get 2 ECBS back. At Walmart  the large bottle is  5.37-4.00= 1.37.They expire 1/29/12. There is time to still use them and the sales will keep coming on OLAY.


GET THESE COUPONS BEFORE THEY ARE SOLD OUT!

2.15 off of Quantum. Market basket on sale for 299 -2.15= .84 cents sale end this saturday but there will be more sales.




2.00 off  1 nivea sales will continue this month. 

2.00 off Almay sales will continue this month.

1.00 off 1 Nivea body wash sales will continue this month.
Buy these high value coupons before they are gone at the coupon carry out here on my site .
This is the order I just placed. I am spending 14.00 but the savings I will get from these coupons will surpass what I spent. :)Just please be careful of your expiration dates.  The amount I bought is on the left hand side and the  prices are on the website that i linked to above.  If you have questions post a comment on the bottom or email me.
| | | |
| --- | --- | --- |
| 5 x | Finish Quantum 25 Count or Larger, Powerball or Gelpack, $2.15 on ONE (excludes 10 or 12 ct Finish Quantum) (01/30/12) | $1.25 |
| 5 x | Nivea GOOD-BYE CELLULITE Gel-cream, Serum or Q10 Firming lotion, $2.00 on ANY (8.4 fl oz-13.5 fl oz)) (01/29/12) | $1.00 |
| 10 x | Nivea BODY LOTIONS, $5.00 on ANY TWO (8.4 fl oz – 16.9 fl oz, excluding Q10 Firming and trial size) (01/29/12) | $3.50 |
| 10 x | Olay product, buy ONE and save $4.00 on Olay Luscious Embrace or Silk Whimsy bar soap (excludes trial size) (01/31/12) | $4.00 |
| 4 x | Kellogg's Special K PROTEIN MEAL BARS, Protein Snack Bars, Protein Shakes and/or Protein Water Mixes, $1.50 on TWO packages (02/12/12) | $0.60 |
| 4 x | Kellogg's Special K CEREALS, $1.00 on THREE (11.4 oz or larger, any flavor, mix or match) (02/12/12) | $0.40 |
| 4 x | Kellogg's Special K CEREAL BARS, Special K Fruit Crisps and/or Special K Granola Bars, $1.00 on THREE (02/26/12) | $0.40 |
| 10 x | Hunts Snack Pack pudding packages, $1.00 on FOUR (any variety) (02/05/12) | $1.00 |
| 6 x | Boost Nutritional Drink or Drink Mix, $3.00 on ANY ONE multipack or canister (02/19/12) | $1.80 |
| 5 x | Curel Moisturizer, $2.00 on ANY (3.5 oz or larger) (02/04/12) | $1.00 |
If you still have coupon 3.00 off 2 use this at cvs!!! ECBs are offered.
KOURTNEY KARDASIAN COUPONS!!!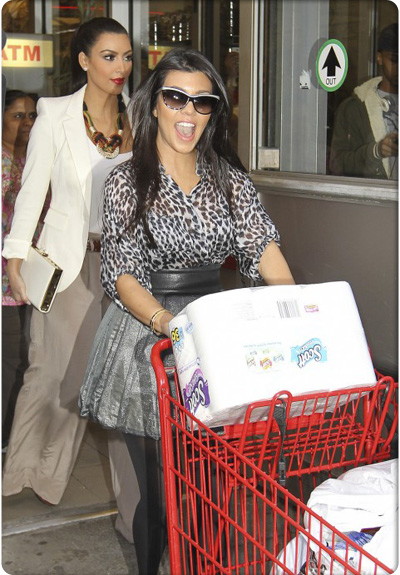 LOOK AT THIS !
See people who don't "need to use coupons" still use coupons to save on everyday essentials!!!
I LOVE IT!!!!!